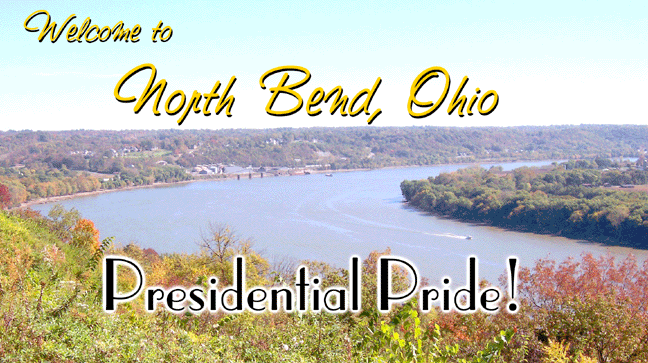 The Village of North Bend is located in the southwest corner of Ohio in Hamilton County, 15 miles west of downtown Cincinnati and 6 miles east of the Ohio/Indiana state line. Named for the most northerly bend of the Ohio River between the Muskingum and Mississippi Rivers, North Bend is rich in local and national history.

North Bend History North Bend takes great pride in its illustrious history. Settled by John Cleves Symmes in 1789, North Bend is the home of William Henry Harrison- the 9th U.S. President, birthplace of Benjamin Harrison-the 23rd President and the cradle of local Three Rivers history. North Bend, along with Quincy, Mass. are the only two communities in America that can claim two presidents. As the site of such a magnificent history and heritage, North Bend occupies a lofty seat in American history.

If you have questions or need information about William Henry Harrison and Benjamin Harrison and their connection to North Bend, want to visit Harrison's burial site or the Harrison-Symmes Museum or have questions about North Bend and the Three Rivers area please e-mail the Harrison-Symmes Memorial Foundation Museum at museum@hsmfmuseum.org or visit www.hsmfmuseum.org
Any change to the Council Meeting
schedule will be posted in advance
HAMILTON COUNTY IS HOLDING A
HOUSEHOLD HAZARDOUS PRODUCTS DROP OFF
YOU MUST REGISTER AND BE A HAMILTON COUNTY RESIDENT TO PARTICIPATE
DATE: Friday, OCTOBER 21 from 10 a.m. – 3:30 p.m.
& Saturday, OCTOBER 22 from 8:00am – 1:30 p.m.
THEY HAVE ADDED A CLEVES LOCATION –
YOU MUST REGISTER FOR A TIME, DATE AND LOCATION
Please go to: www.hamiltoncountyresource.org
Click on Residents, click on Hazardous Products
Some items INCLUDED for drop off are:
Pesticides, Herbicides, Fertilizers, Solvents, Thinners
Lead Paint, Propane Tanks, Fire Extinguishers, Gasoline,
Oil Mix, Brake Fluid, Motor Oil, Stain, Oil-Based Paint,
Pool Chemicals, Batteries, Fluorescent Bulbs and more.
Thank you, Village of North Bend
* * * * * * * * * * * * * * * * * * * * * * * * * * * * * * * * * * * * *
Village of North Bend
Natural Gas Aggregation Agreement Status




CLICK HERE for DETAILS

 




* * * * * * * * * * * * * * * * * * * * * * * * * * * * * * * * * * * * * * * * * *




NOTE: Date Change for October Council Meeting
Thursday, October 27, 2022 - 7:00PM
North Bend Administration Building
* * * * * * * * * * * * * * * * * * * * * * * * * * * * * * * * * * * *
RUMPKE Waste & Recycling Rates for 2023
During the September 26, 2022 Council meeting,
Council voted to extend the current Rumpke Waste & Recycling Agreement
one additional year through 2023 with the following rates:
Waste Collection: $14.75 / Month
Recycling: $ 4.75 / Month
* * * * * * * * * * * * * * * * * * * * * * * * * * * * * * * *
Rumpke Bond Rd (Whitewater Twp.) Landfill
For information visit:
https://www.facebook.com/rumpkebondroaddev/
* * * * * * * * * * * * * * * * * * * * * * * * * * * * * * * * * * * *
updated 9/28/2022

Find sex offenders near me
---
| Return Home | Village Of North Bend | Hamilton County Government | Great Links | Contact Us |